Founded in 1942, the American Geriatrics Society (AGS) is a nationwide, not-for-profit society of geriatrics healthcare professionals dedicated to improving the health, independence, and quality of life of older people. Our 6,000+ members include geriatricians, geriatrics nurse practitioners, social workers, family practitioners, physician assistants, pharmacists, and internists who are pioneers in advanced-illness care for older individuals, with a focus on championing interprofessional teams, eliciting personal care goals, and treating older people as whole persons. AGS believes in a just society, one where we all are supported by and able to contribute to communities where ageism, ableism, classism, homophobia, racism, sexism, xenophobia, and other forms of bias and discrimination no longer impact healthcare access, quality, and outcomes for older adults and their caregivers.  AGS advocates for policies and programs that support the health, independence, and quality of life of all of us as we age.
The Society provides leadership to healthcare professionals, policymakers, and the public by implementing and advocating for programs in patient care, research, professional and public education, and public policy. For more information, visit AmericanGeriatrics.org.
The AGS is uniquely positioned because we represent a committed group of healthcare professionals who are actually doing the care. It's imperative that the AGS seize the opportunity to advance its mission—ensuring quality care for all older adults.-Cheryl P., MD
Our Mission
To improve the health, independence, and quality of life of all older people.
Our Vision for the Future
We are all able to contribute to our communities and maintain our health, safety, and independence as we age; and older people have access to high-quality, person-centered care informed by geriatrics principles and free of ageism.
Strategies for Achieving Our Vision
Expanding the geriatrics knowledge base through initiatives that promote basic, clinical, and health services research regarding the health of older adults.
Increasing the number of healthcare professionals employing the principles of geriatric medicine when caring for older persons by supporting the expansion of geriatric education in all applicable health professions and promoting the development of systems of care and practice redesign that facilitate the provision of quality geriatric care.
Recruiting physicians and other healthcare professionals into careers in geriatrics through efforts to ensure that geriatrics is a viable, attractive, and rewarding career choice.
Guiding public policy through advocacy so policy supports improved health and healthcare for seniors.
Raising public awareness of the need for high-quality, culturally sensitive geriatric healthcare so an empowered, proactive public can help drive improvements in the quality of care that older persons receive.
Image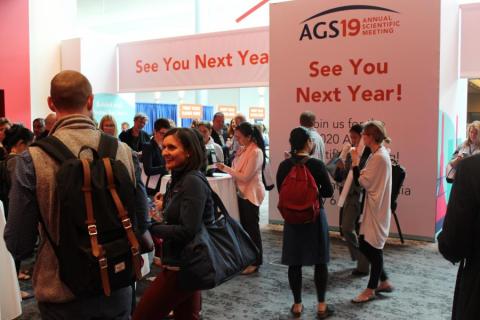 Subscribe to Annual Meeting Updates
Interested in AGS Annual Meetings? Subscribe to our email list today in order to stay updated on everything you'll need to know for attending or following along at home.